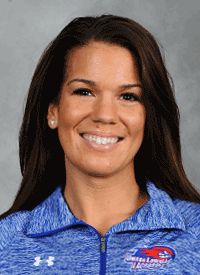 Head Coach UMass Lowell
Carissa Medeiros
Carissa Medeiros will enter her fourth year, third season, at the reigns of the UMass Lowell women's lacrosse program, which played its inaugural season in 2015.
Under Medeiros' direction, three RiverHawks were named to America East All-Rookie Teams, and 2016 graduate Laura Kender was twice named to the America East & IWLCA All-Academic Teams.
In six seasons at Bentley, Medeiros compiled an overall record of 60-47 and a 46-21 clip in the Northeast-10 Conference while coaching 10 NE-10 all-conference players and four all-rookie team standouts.
Her teams have also excelled in the classroom, having earned Intercollegiate Women's Lacrosse Coaches Association (IWLCA) All-Academic honors in 2011 and 2012. More impressive, Bentley's 2012 team was named an IWLCA Merit Squad for having one of the top three team grade point averages in Division II.
Prior to taking the reins at Bentley, Medeiros was an assistant coach at her alma mater, Stonehill College, for 3 seasons (2004-06) where she helped the Skyhawks to NE-10 titles all three years, in addition to the 2005 NCAA Championship 2005 NCAA Championship. She also enjoyed a stellar three-year career which saw capture the 2003 NCAA title.
An All-American goalie as a senior at Stonehill, Medeiros was a walk-on who sat out her freshman year to concentrate on academics, but stepped into the starting lineup as a sophomore. She backstopped Stonehill to a three-year record of 45-15 which included the 2003 NCAA Championship as well as NE-10 Championships in all three years. She earned Tournament Most Valuable Player honors in 2003.
Additionally, Medeiros was named the IWLCA Goalie of the Year after ranking second in goals against average (6.17) and seventh in save percentage (.586) among Division II goalies. As a junior, she captured Eastern College Athletic Conference (ECAC) Goalie of the Year honors.
She was named to the NE-10 All-Conference Team and NE-10 Commissioner's Honor Roll all three years as well.
A psychology major/criminal justice minor, Medeiros graduated from Stonehill cum laude in 2003. She earned her master's degree in general psychology from Boston University in 2005 and previously was an adjunct professor of psychology at Endicott College and Salem State University.
Medeiros graduated from New Bedford H.S. in 1999 where she was a three-sport standout in soccer, basketball and lacrosse.