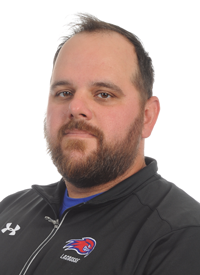 Camp Director & Assistant Coach
Forrest Stillwell
Stillwell joined the River Hawks in the summer of 2015.
Stillwell's primary responsibilities at UMass Lowell will be working with the defensive and goalkeeping units, as the squad's defensive coordinator.
"Our program is supremely lucky to have snagged Forrest as our Defensive Coordinator," said Medeiros. "Someone with his experience and proven ability as a coach is exactly what we need as we enter our third year. He brings with him a wealth of knowledge of the X's and O's of coaching women's lacrosse, as well as a large network of mentors and connections in the Division I world. He will help elevate our program immediately."
As a member of the staff at UConn, Stillwell managed the Huskies defense, which led the BIG EAST Conference in caused turnovers and save percentage in back-to-back seasons (2015, 2016). Stillwell was also a part of the Huskies' coaching staff that was named the 2015 BIG EAST Coaching Staff of the Year and brought the Huskies to it's first ever conference tournament the same year. During his tenure, Stillwell coached two All-Americans, eight All-Region selections, two BIG EAST Players of the Year, and multiple All-BIG EAST First Team honorees.
"I am very excited to be here and for the opportunity to help contribute to a rising program," said Stillwell. "Coach Medeiros and the team have an amazing chemistry and bond, and I am glad to be in the River Hawk family."
In addition to his coaching stint at UConn, Stillwell spent five years at Bucknell, headlining the squad's defensive system. During his five-year coaching campaign, the Bison led the Patriot League in caused turnovers in 2012 and 2013.